Main content starts here, tab to start navigating
Ice Cream & Donuts
All ice cream is made in house- steeped, blended and churned right in our kitchen! Our cakes, brittles, brownies and cookies are also baked and crafted on view for all to see. Donuts are made fresh from scratch daily, served warm and pair perfectly with so many of our ice cream flavors. Be sure to give a wave or a smile to our chefs Brian & Jazmin next time you see them at work.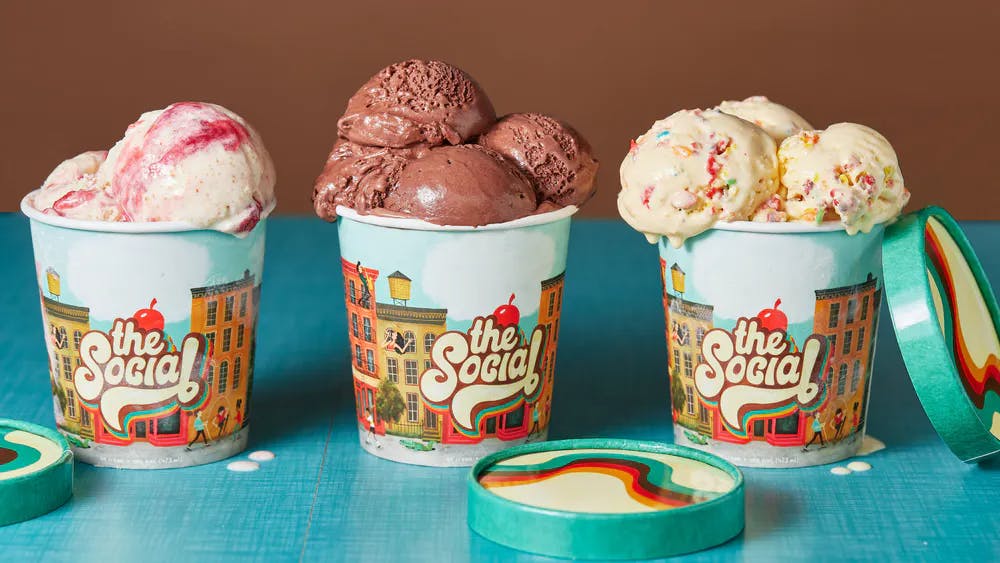 Vanilla Bean

Lusciously complex yet comforting, this pure vanilla ice cream is anything but plain. A blend of Madagascar and Mexican vanilla beans mixed with our locally sourced Hudson Valley Fresh milk and cream.

Chocolate Fudge

A magical balance between dark cocoa and sweet fudge. This rich intoxicating flavor will awaken your deepest chocolate cravings and leave you wanting more…

Strawberries & Cream

Brightly fresh and berry forward, our Strawberries & Cream blends together the ripest fruit with our locally sourced Hudson Valley Fresh milk & cream.

Hydrox Cookies & Cream

Sweet cream ice cream with loads of hydrox sandwich cream cookies. Fun fact: hydrox cookies predate Oreos. They're beloved for the much crunchier cookie which makes for a less soggy mixin in ice cream. Also, once upon a time the social was a soda fountain and sold hydrox ice cream.

Orange Dreamsicle

Fruity orange, creamy, refreshing and delightful orange sherbet. Our dream has always been to transport you to a place of possibility. We believe this flavor does just that.

Buzzin' in Brooklyn

Bold Coffee ice cream infused with cinnamon pull-apart bread and chock full of housemade pieces of espresso toffee.

Mint Chocolate Flake

Cool peppermint ice cream with flakes of dark, decadent chocolate

Oh Captain, My Captain!

Cap'n Crunch infused ice cream with clusters of white chocolate tossed Fruity Pebbles. Your favorite breakfast cereals in ice cream form! (OK, Walt Whitman might not approve.)

Cotton Mallow

Cotton Candy ice cream with loads of mini marshmallows. Made with all natural flavors & colors!

Butter Pecan Pie Crumble

Brown Sugar & Brown Butter infused ice cream with Butter Pecan Pie Crumble.

GrahamMaster Fluff

Graham cracker infused ice cream with marshmallow swirls and semi-sweet chocolate flakes.

Banana Pudding

Banana & Nilla wafer infused ice cream with pieces of Nilla wafers.
Donuts
Plain Old Fashioned

Classic comforting cake donut.

Old Fashioned Glazed

light, classic old fashioned donut blanketed with smooth sweet vanilla bean glaze.

Cinnamon Sugar

Cake donut tossed in cinnamon sugar.

Cookies & Cream

Glazed and coated with crushed pieces of Hydrox sandwich Creams.

Apple Cider Donut

Our Apple Cider Donuts are all made in house with our specially created cider donut recipe and rolled in cinnamon sugar. No need to visit the orchard for these delights! Made fresh daily. *Best eaten warm

Chocolate Glazed

Our Chocolate Cake Donut is as chocolatey as they come-topped with a light glaze to keep our chocolatey rich donut perfectly spongey and decadent.
Double The Dough

Cookie Dough infused ice cream with chunks of housemade chocolate-chocolate chip cookie dough. Double the deliciousness

Ooeyer & Gooeyer

Ooey Gooey Butter Cake infused ice cream loaded with chunks of housemade Ooey Gooey Butter Cake and ribbons of milk caramel.

The Old Ballgame

Popcorn infused ice cream with housemade peanut butter peanut brittle.

Salty Malty Peanut Butter Double Dutch

Salty malty peanut butter and pretzel infused ice cream with housemade peanut butter cups.

Morning In Paris

Flaky, butter croissant infused ice cream with swirls of all-natural raspberry jam.

Breakfast With Nonna D. & Poppy

Maple syrup and donut infused ice cream with pieces of Nonna D's Oatmeal Lace Cookies.

Fudge Crackle

Deep and decadent chocolate vegan ice cream made with coconut milk, cocoa powder and melted chocolate, and stuffed with chocolate coated Rice Krispies.

Underneath The Mango Tree

Lusciously smooth silky mango sorbet made with ripe juicy mangoes. *Vegan & Gluten Free

Pucker Up

Lip puckeringly tart lemon/lime sorbet. *Vegan & Gluten free

Coo-kie For Cocomint

Refreshingly cool and minty coconut "ice cream" made with organic coconut milk, and loads of Hydrox sandwich cream cookies. And yes, it's vegan!

Chocolate Malt & Cookies

Old-Fashioned Chocolate Malted ice cream with loads of Hydrox sandwich cream cookies.